"Lieuwen, 2018"
Portrait assignment with my Polaroid camera
Lieuwen, 2018
(Light) images, photography and projections for 'Dansmakers' and Marie Goeminne's project 'Have I been here before'. Premiere last November 2016.
One can express anything in dance, but there is still a challenge in a theme about ephemerality. While we are increasingly focused on life, nature maintains its eternal impulse of creation and destruction. In the performance Have I Been Here Before by Marie Goeminne, the night brings the day and exhaling comes after inhaling. Together with three dancers, Marie ventures a dance around the theme of death.

With a sculptural and minimalistic movement-idiom, the dancers Maaike van de Westeringh, Anne-May de Lijser and Zoé Leduc express that death is not about below ground; it is an equally intimate as a powerful story that should be told. Whereof one can not speak, is still getting a voice in this organic assembly of movement, projection (Eva Gjaltema) and sound (Alberto Novello). Just as fallible as infallible, the ephemeral in this performance is your companion.
Kirstin Burckhardt, Festival of the Future Nows, Hamburger Bahnhof, Sept 2017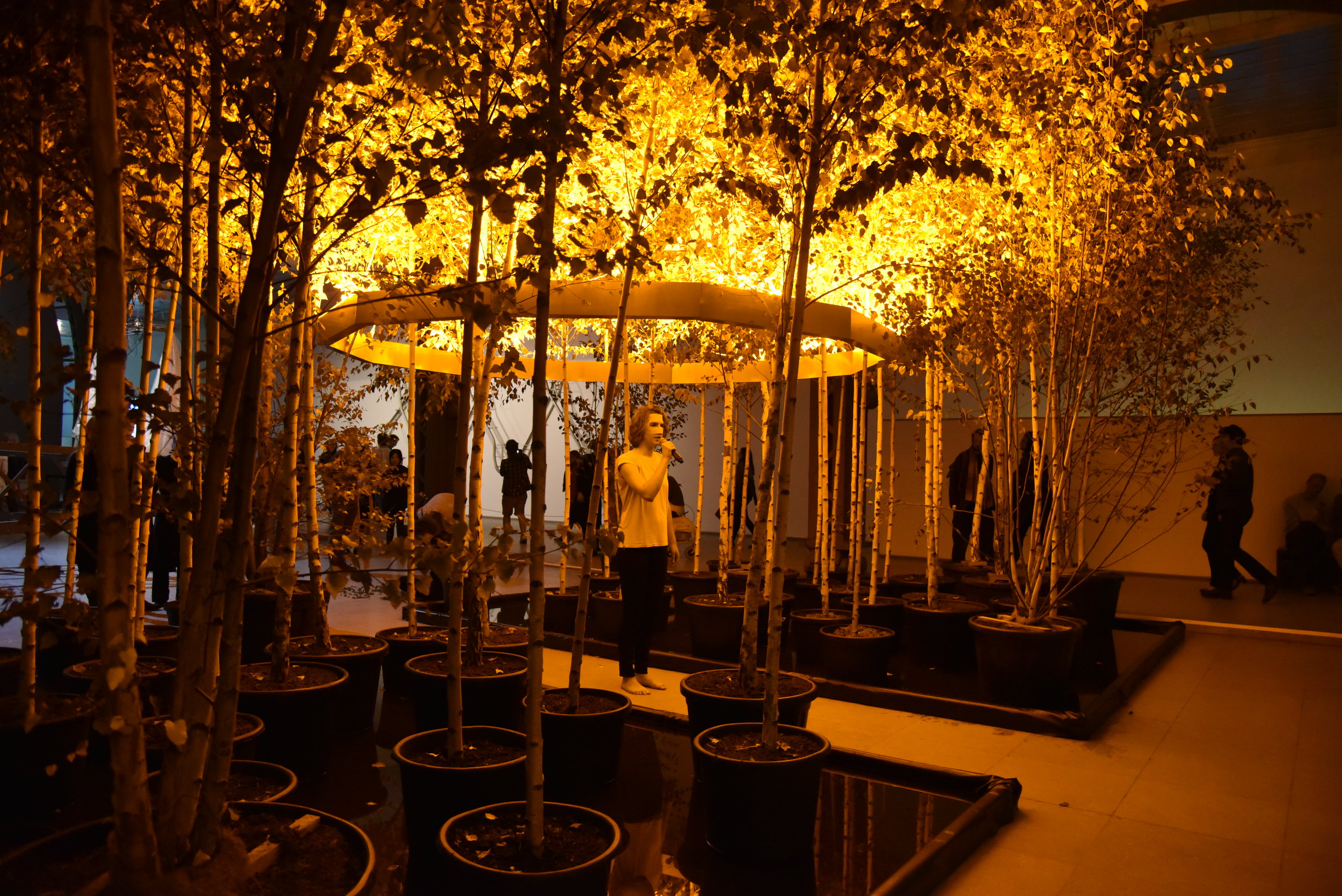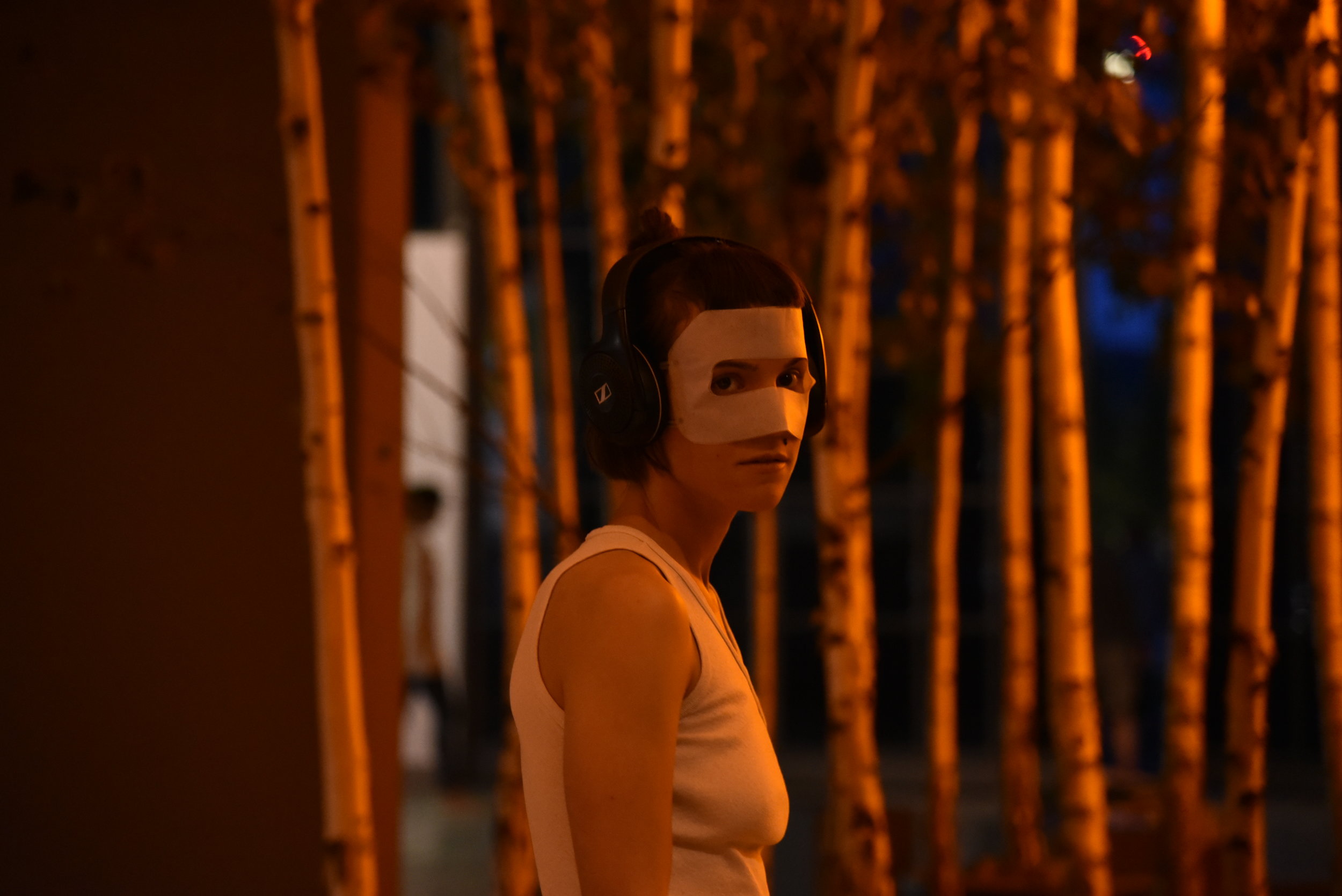 Theaterdiscounter, Delegation X, September 2017
Die Berliner Mauer ist weg. Nord- und Südkorea sind seit 70 Jahren geteilt. Menschen ziehen Grenzen, Menschen überschreiten sie. Kontaktsperren, Eskalationsdrohung und Tauwetterphasen wechseln sich ab. Vor dem Hintergrund der deutschen und koreanischen Geschichte agiert die DELEGATION X zwischen Karaokebar-Debatte und Verhandlungstisch-Choreografie.

Entlang einer Familiengeschichte im Zentrum des Konflikts befassen sich die Rechercheprofis von LUNATIKS mit deutschen und koreanischen Vereinigungsphantasien und Teilungserfahrungen, mit individuellen Trennungsgeschichten und wirtschaftlichen Fusionsprojekten. Jenseits brandaktueller Grenzziehungen auch in Europa handelt DELEGATION X vom Senden und Entsendet-Werden, von den Lehren der Geschichte und von der Sehnsucht, das Schicksal eines ganzen Landes verändern zu können.

Für Südkorea ist die "Wende" in Deutschland eine Erfolgsgeschichte – im Blick von Pjöngjang nach Berlin dürfte der "Vereinigungserfolg" anders bewertet werden. Immer wieder lädt Südkorea deutsche Delegationen ein, denn hier hat es vor fast 30 Jahren geklappt. Hat es das? Mit den Experten aus Deutschland wird eine Poetik der Geschichte eingekauft: Emotionen und Bilder, erfüllte Hoffnungen, überwundene Sorgen. Die Wiedervereinigung als Exportschlager?

"In Deutschland sprach man gern vom Eisernen Vorhang, der das Land teilte. Verglichen mit der Lage in Korea war es nur ein Holzlattenzaun. " Frontbesuch in Seoul, Der Spiegel